It's been a while since I have danced, and I miss it. Medical issues have prevented me from returning, so I've decided to work on my costuming techniques and designs in the meantime.
So this journal is going to become more of a costuming journal.
It's funny how life gets away from you.
Current Mood:

excited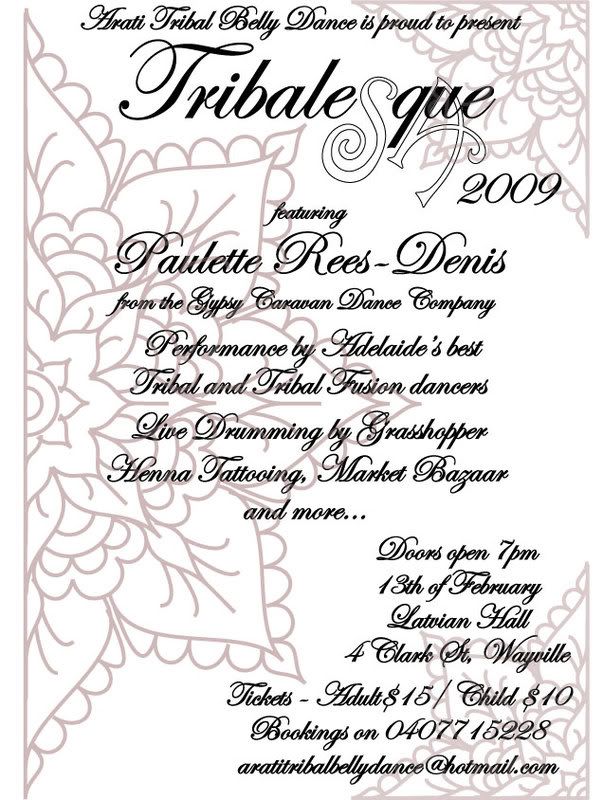 Current Mood:

excited

But it looks like it's actually coming together nicely, so I'm just slowly pulling together all of the threads and hoping that it doesn't all unravel at the end.
Organising bellydancers is Serious Business.
Arati Tribal Belly Dance is proud to be bringing Paulette to Adelaide, South Australia in February, 2009.
Current Mood:

excited

Not just patience with others, but patience with myself, and realising that I have to stop putting the cart before the horse and take things one step at a time.

The classes are wonderful. The girls... well, they just astound me always, not just with their enthusiasm for class, but with the way that they support me and encourage me to do better for them. I want to do so much, but I just keep having to think - one step at a time.

Organising Paulette's visit is an experience. One of my sister's friends is an event co-ordinator, so she is helping me to be organised and budget correctly and get quotes and actually work this whole thing out properly, rather than just leaving it up to fate.

(the plus side being that if I can prove to my Honey that this is a worthwhile venture, the annual thing might not be too much of a stretch...)

Earth Mother Creations is coming along nicely. I have stock made that was supposed to be for the Sydney Tribal and Trance festival, but as I'm not going now, I'm going to start selling it off, and hopefully raise a little more money for getting Paulette here.
I'm thinking of making some garments and doing a fund raiser. But the question is, shall I make something already loved (like stripeys...oooh! How about black and white stripey ruffled garters?) or should I try and design something new and hope that it becomes the next "must have"?
I think that one of the hardest things I have had to learn is patience.

So when I was travelling back, after much soul searching and trying to work out what I really want, I made up my mind - I was going to go back to teaching, but on my own terms.
Which means I've struck out on my own and started my own classes.
It's both nerve wracking and exciting - actually taking responsibility for my future, rather than letting it just happen.
It was very sad, telling my teacher, and she didn't take it well, but that was to be expected, really. I'm not blaming her, even though stuff that she has done since then *has* made me raise my eyebrows. But I couldn't stay where I was, and I couldn't go back to what I had been, so there was really not many other options.
Anyway.
I'm organising to bring Paulette out in March next year, and there is also the possibility (at least I'm toying with the idea) of doing a tiny little mini festival - maybe just a bazaar, maybe a couple of other teachers doing workshops, definately a performance/dance jam. And I'm trying to organise support from the other teachers here in Adelaide. I've already heard back from one, saying that it sounds like a great idea, now I'm just hoping to get other people on board, too.
(and maybe, just maybe, depending on how it pans out, I might just try to make it an annual thing. Because Adelaide needs something like this.)
One of the things that came out of doing Collective Soul 2 with Paulette was this hunger to get back into teaching. I realised exactly how much I had missed it, and since I hadn't been dancing since October, I also realised exactly how much it keeps me in shape.

And I haven't even posted about Paulette's workshops, and really, that's what's thrown me into a tizz.
Short story for the moment - I'm teaching again, but for myself this time. It's rather scary, going out on your own, when you've always relied on other people to do the ground work before.
And my costuming has gotten to a point that it's utterly ridiculous - I've had to stop taking orders just so I can finish some of the orders I already have. *shakes head* But if I can get my ducks in a row and actually get myself organised, it could actually take off.
In the meantime, though, I have a pile of sewing up to my eyeballs and too many design ideas floating around to be of any use.
I really have to sit down and update one of these days. I just never seem to have the time.
Current Mood:

contemplative